Transaction ID
The transaction ID is a special set of numbers that defines each transaction. With its help, bank workers can identify the purchase that was made by the customer. The transaction ID is always unique, which means that there are no transaction IDs that are the same. This transaction key is usually generated after the system defines it as a successful one. Typically, the key consists of numbers and letters (a 12-18 digit code).
If the customer wants to search for a particular payment, the transaction ID is needed. The ID is also essential if the client has an intention to ask for a refund. This ID can be found in the top right corner. This one also can be used to authenticate the holder of the card before reporting the data about the payments of a particular customer.
Here are some examples:
Could you please mention the transaction ID, so we can check the payment situation?
I should find the transaction ID first in order to get a refund.
How can you get a transaction ID from your payment?
Every service has a unique CRM system. As a result, all the transaction IDs are displayed differently. To find a transaction ID, enter the FAQ of your service or get in touch with customer support. Here are the examples of the most popular services where customers are looking for their transaction IDs:
PayPal transaction ID
To find a PayPal transaction ID, enter your PayPal account. Then, enter the "Activity" page. There you will find a list of transactions that you made from your account. Open the transaction of your choice and select the field "Transaction ID." It looks like this: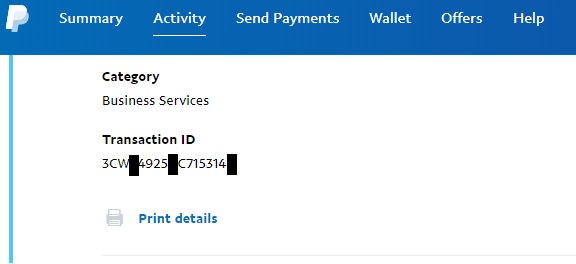 Bitcoin transaction ID
Just like any credit card transfer, every Bitcoin transaction has its own transaction ID, also known as a hash. It looks like a unique set of letters and numbers. To find the bitcoin transaction ID, do the following:
Enter blockchain.info. The website enables one to view and search all the crypto payments made on the blockchain.
In the "Search" area, print down the crypto address you made the payment to.
Then, press "search".  All crypto transactions that involve that address will be listed down, from the newest ones to the oldest.
The fastest way to locate your particular transaction is to use the keyboard shortcut Command + F (macOS) or Control + F (Windows).
Once you have found your bitcoin transaction, the transaction ID is shown as a long set of letters and numbers. It is displayed in the field "Hash" above the transaction amount.