Why should sellers look for bitcoin payment gateways? The answer is simple. Cryptocurrencies, along with bitcoin, functionalize too long to ignore them. Statista shares that bitcoin's market capitalization formed 53% of the total cryptocurrencies' market cap in 2019. According to the same source, bitcoin payments amounted to 3% of global preferred payment methods in 2017. And though it might seem like a tiny number, the fact bitcoin has made it to the chart is eloquent.
So, industries like gambling, gaming, dating, and some others prefer to offer bitcoin, among other payment methods. Moreover, many retailers (eCommerce, electronics, etc.) also include this currency on the checkout page. Microsoft, Expedia, Newegg, and other merchants are on the list. How could you join them? It's by searching for the bitcoin merchant services.
In this article, we'll help you with what bitcoin payment processor to choose. Luckily, more and more payment gateway providers allow merchants to accept bitcoin. We're going to share seven bitcoin merchant service providers. Take a look at their features to pick the best option for you.
Top 7 bitcoin payment gateways in 2022
1. NOWPayments

This non-custodial crypto payment gateway supports 140+ cryptocurrencies. There's auto coin conversion available, meaning it doesn't matter which crypto customers pay with as merchants can accept the coins they prefer—NOWPayments converts them.
Payments are not the only solution NOWPayments provides their partners with: there are also crypto donations (including Twitch button), a Mass Payouts solution, customized Casino solution, fiat conversion, a point-of-sale link, subscription feature, and much more.
NOWPayments provides merchants with a variety of tools: API, invoices, donation widget, buttons, links, as well as plugins for WooCommerce, ZenCart, PrestaShop, Opencart, WHMCS, Magento 2, Shopify, and others.
2. Ikajo International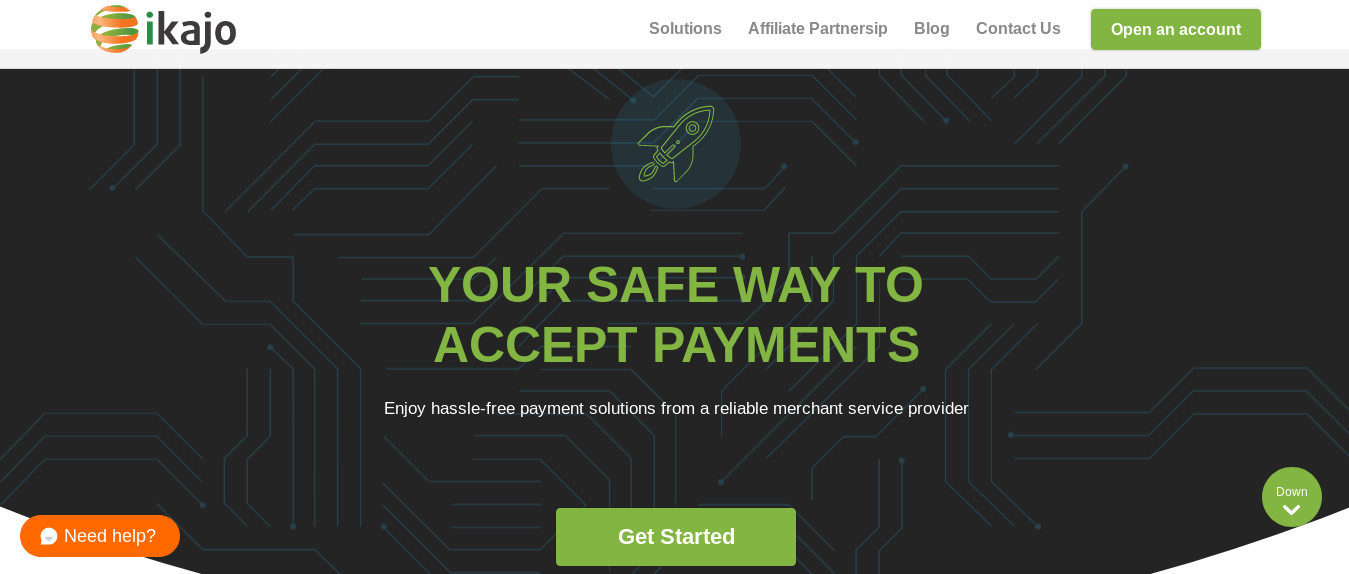 Ikajo is a global payment processor that caters to low and high-risk businesses' needs. It began helping merchants from all over the world from 2003. Among alternative payment solutions it has, bitcoin holds its own place. As Ikajo works with online dating, gambling, and gaming merchants, it understands the importance of this payment method. Moreover, Ikajo offers its own fraud & chargeback prevention software to protect sellers.
Ikajo offers global coverage for this payment option. That helps to attract a broad audience and retain the current one. To enjoy this payment method, the merchant has to integrate via the Hosted Payment Page or a special widget. When it comes to settlements, Ikajo offers funding in the cryptocurrency or via Swift. Merchants can get the funds in either EUR or cryptocurrency.
3. Bitpay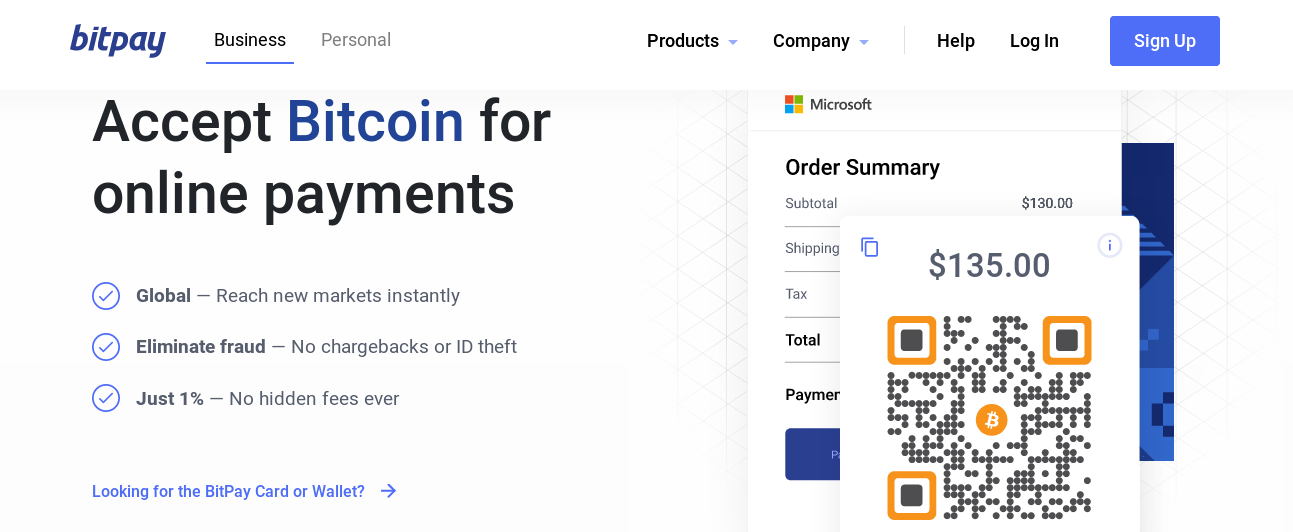 This payment service provider stands at the forefront of this payment technology. It started its operations in 2011. At that time, bitcoin only started to captivate the minds of advanced users. Nevertheless, the Bitpay team saw the potential of the cryptocurrency. And they were right. Soon the necessity in accepting bitcoins grew, and Bitpay was among the first companies to offer this service.
Bitpay helps merchants to cater to global needs and reach an international audience. Also, it protects its merchants from any kind of fraud. This payment processor lets the merchant accept bitcoin on its website. The seller gets the designated payment button and the hosted payment page. Bitpay settles payments via FPS, SEPA, ACH, and other bank transfer types. Settlements are available in EUR, USD, GBP, and other currencies.
4. PaySpacelv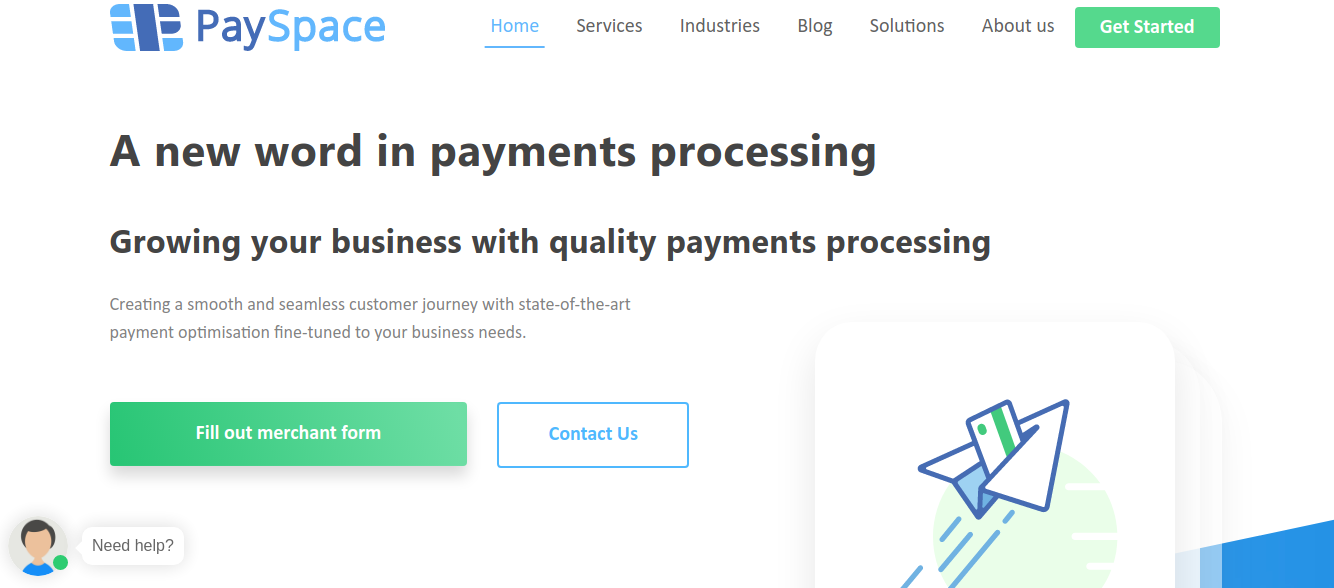 PaySpacelv is a payment service provider that specializes in high-risk business processing. Taking into account that this business type prefers accepting payments in bitcoin, PaySpacelv got its expertise in it. To support merchants, PaySpacelv offers state-of-the-art fraud prevention software. And advanced analytics helps to learn customer behavior and habits better.
PaySpacelv is a payment processor that ensures international reach for its merchants. The funds' settlement is available in the cryptocurrencies or euros. The settlement takes place via Swift or cryptocurrency payout. Merchants can integrate the gateway via HPP.
5. CoinGate

CoinGate is among bitcoin merchant services that offer payment gateway for cryptocurrency payments. The company helps to build a customer-oriented checkout environment to make bitcoin payment easy. The company has been working since 2014. CoinGate helps merchants and customers from all over the world enjoy and access cryptocurrency payments.
Accepting bitcoin with CoinGate is hassle-free. The merchants can integrate the gateway via an API or eCommerce plugin. CoinGate also provides a bitcoin-branded payment button. The merchants can receive payments in bitcoin, EUR, USD, or USDT. The funds' withdrawal is available in bitcoin or SEPA (to receive EUR).
6. Coinbase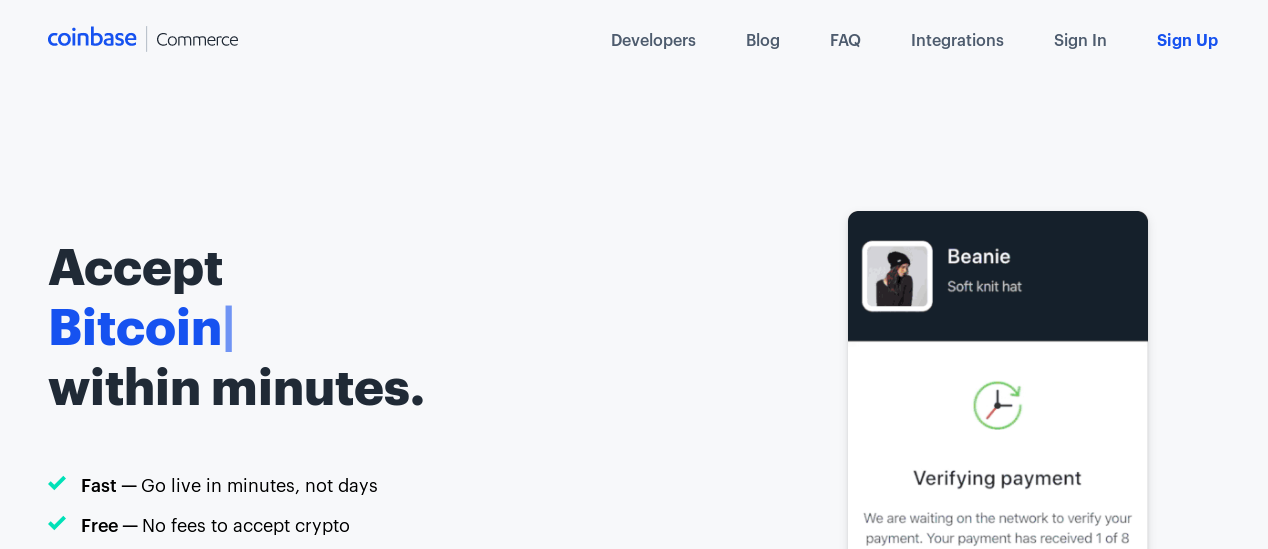 Coinbase is a globally renowned cryptocurrency marketplace. It's been helping customers from all over the globe since 2012. Not only it allows to buy and sell a cryptocurrency, but it provides a payment gateway for merchants. It's available via its service Coinbase Commerce. It lets merchants accept payments without a middleman. Besides, they are fast and safe.
Coinbase ensures merchants reach out to the global customer base. It is possible to integrate the payment via the hosted payment page. Indeed, merchants can use a variety of eCommerce plugins like WooCommerce, Shopify, etc. Merchants have an opportunity to customize the payment button. The withdrawal is available in the cryptocurrency only.
7. GoCoin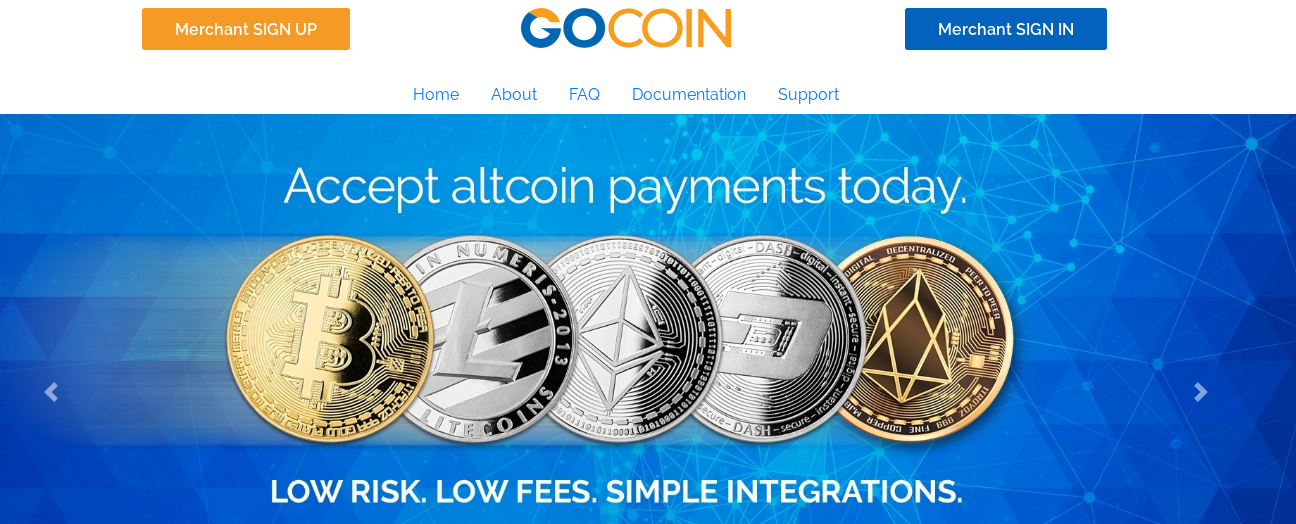 GoCoin is another bitcoin payment service provider you can consider. It's been running since 2013. They offer a global payment gateway that is secure and efficient. The company believes in a bright future of blockchain commerce. So, it happily assists merchants in accepting a variety of cryptocurrencies. GoCoin empowers a variety of industries like traveling, hosting, gaming, and so on.
GoCoin offers transactional risk protection to keep the merchant's funds safe. Website owners can integrate the payment gateway via HPP. Thus, plugins for the platform like WooCommerce, Shopify, Magento, Prestashop, are available as well. Merchants a variety of features when it comes to the dashboard.
Conclusions
After comparing these bitcoin merchant services, it's up to you which one to choose. The essential point we'd like to get across is bitcoin's advantageousness. Unlike other payment methods, it cannot be reversed. That saves you from the chargeback risk. Also, bitcoin can involve a truly global audience. Indeed, bitcoin processing fees are usually cheaper compared to other methods.
If you decide to offer payments in bitcoins to your customers, Ikajo is here to help. We have over a decade of the payment processing experience we'd like to share with you. Feel free to ask any questions or fill in the merchant's form straight away. We'll be glad to have you on board!