Top 10 PayPal alternatives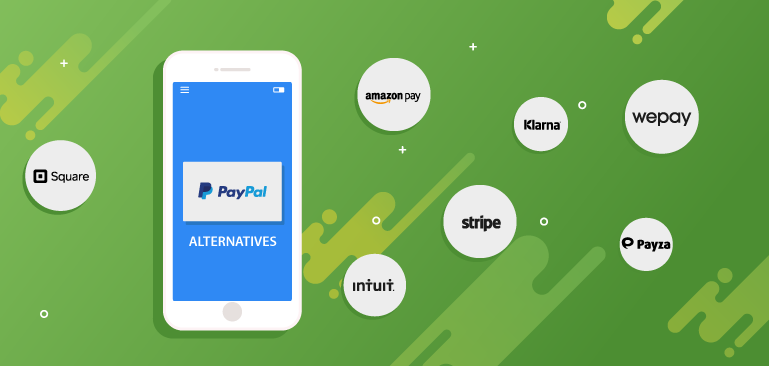 PayPal consolidated its position as one of the most influential FinTech companies worldwide. Just like Coca Cola or Nike, it gained credibility and trust among users. But is the most advertised item always the best? Not necessarily. And the number of users that support PayPal alternatives prove this point. Why do they do it? Let's dive into that issue!
Disadvantages of PayPal
Despite brand recognition and easy setup, PayPal has a list of disadvantages that shouldn't be ignored by merchants. Fees structure might be to blame. Though PayPal claims to help the small sellers, it is not quite true. A starting fee of 2.9% plus $0.30 per transaction is a big burden for small merchants on eBay.
PayPal is also vulnerable to fraud. If you happened to be a victim of criminal activity, your account might be easily suspended and frozen due to the company's strict policy.
Back in 2018, PayPal revealed that it shares user's data with more than 600 external companies. From Facebook to Google, the PSP has published the list of third parties it shares data with. They claim it to be a part of a transparency drive.
Another disadvantage of PayPal is that the funds are usually refunded to the customer when the item has been shipped. Although PSP offers a protection policy that guarantees you will get a product in the condition it was described, this does not apply to digital items.
Once again, is the most advertised item always the best?
Let's find out by checking this brief list of top ten PayPal alternatives.
The best PayPal alternatives
1. Square
Square is a user-friendly POS system that comes with a wide range of helpful features. It does not have any monthly fees, which makes it a top choice for small businesses. Transaction discount rate of this service starts at 2.75%.
2. Google Pay
Google Pay allows clients to purchase goods and services with a tap of a finger. The entire process of payment takes no longer than a couple of seconds. The service can be linked to the bank account, allowing the merchant to view the history of all transactions/expenses. There are plenty of helpful tools including those available both for merchants and clients absolutely free of charge.
3. Venmo
Venmo ensures smooth payment processes via the website and mobile devices. It also has a wide range of social benefits. For example, it allows customers to share their shopping experience with friends. That makes Venmo an excellent option for merchants that aim to generate new leads.
Thanks to Intuit, you can send invoices and accept transactions from all over the world. There is a 30-day free trial that decreases the risk of one losing the money. Intuit has several pricing plans. Simple Start costs 25¢ per transaction +2.4%. If you purchase a long-term plan, you get a significant discount. Intuit is suitable for both small and large businesses, and especially those mostly focusing on online sales.
5. Ikajo International
Ikajo International functions in 130+ countries what makes it an absolute leader for international e-commerce. The main benefits of this PSP are low fees starting at 1.2% and a wide range of payment methods. Ikajo International also supports mobile banking and recurring billing.
6. Authorize.net
From Apple Pay to debit/credit cards, this company has a wide range of payment options. Monthly pricing for the All-In-One plan starts at 2.9%+ 30¢ plus $25 per gateway. You can also opt for a customizable payment gateway or a comprehensive enterprise payment solution. Depending on the pricing plan of your choice, you get access to lots of different features, such as fraud prevention, recurring payments, customer information manager, and more.
7. Stripe
Stripe also offers a list of useful tools such as subscription payments, crowdfunding platforms support, payment processing for online stores, etc. There are no setup or hidden fees. The price of Stripe's complete solution is 2.9%+30¢. It is also possible to customize your own pricing plan based on your business needs.
8. Amazon Pay
Amazon Pay is known for a high level of customer satisfaction. The payment processing is smooth and fast. Customers do not need to set up a new account to pay for their purchases. Moreover, they aren't redirected to another website to pay. Consider this option if you aim to retain customers and grow the audience.
9. Skrill
Skrill is a secure and flexible payment platform both for online merchants and game/app developers. It allows clients to pay using just their email address and password. The two main features of Skrill are Digital Wallet and Quick Checkout.
10. PayKings
From firearms to adult, PayKings provides payment solutions for high-risk businesses. Its high-risk merchant account rates start at 2.49% per transaction. However, it is only accessible for qualified merchants. Mid-qualified and non-qualified rates can be higher.
Over to you
There are many other payment gateway providers suitable for various businesses. Each case is unique. And if you have questions about payment processing for your particular business, don't hesitate to contact us for free expert consultation. We're here to help find you the best-fitting payment processing solutions possible.