Mobile payment apps successfully conquer the way most people pay. And this doesn't come out of the blue. Humankind eases many processes happening right now, thanks to advanced technologies. That is why cash to a credit card to mobile wallet transition doesn't shock us at all.
Let's appeal to statistics and numbers. The research says that the number of mobile payment users will surpass 1 billion in 2020. And if mobile payments were the seventh popular online payment method in 2017, we predict it to be among the top five in 2020. Customers prefer mobile payments in virtue of their speed, security, and ease. Moreover, it's comfortable to track all the transactions.
Mobile payment acceptance is one of the main priorities for merchants who want to build a gainful company. Recent studies say that 80% of merchants assume mobile payments as an essential part of the business strategy. We are sure it's great to be among those merchants. If you still don't accept mobile payments, it's high time you started doing it.
So far, online dating and social services companies are among businesses that actively offer this payment method. Professional service representatives still have space to grow. Plenty of eCommerce websites also benefit from enabling mobile payments. That's why let's take a look at the best mobile apps in 2019.
Here is a list of payment apps you should consider
1. Apple Pay
October 2014 marked the release date of Apple Pay, the m-wallet, and the mobile payment system by Apple. The application lets users pay in-app, online on the web, and in the brick-and-mortar stores. Apple Pay payment app is a fit for Apple devices – iPhones (iPhone 6 and up), Apple Watch, and Macs.
Nevertheless, when it comes to payment capabilities, they are pretty broad. So far, customers can use Apple Pay in the European Economic Area, Russia, Canada, Hong Kong, Georgia, China, Singapore, Saudi Arabia, United Arab Emirates, and other countries. Also, users can keep international credit cards in digital wallets. The list fills up with Visa and MasterCard cards, AmEx and Discover. Some local and international banks fall for this rule as well: Cartes Bancaires, JCB, UnionPay, EFTPOS, and so on.
Apple payment app enables payments within iOS-native apps. Their number is vast. Users press "Buy with Apple Pay" to pay for apps, online delivery, clothing, beauty purchases, etc. We also enjoy the technology-driven MacBook Air or MacBook Pro payment process. A shopper clicks on "Apple Pay" and uses Touch ID to pay for goods and services.
Apple Pay uses top-notch security means to safeguard users' transactions. Apple uses a unique device number and transaction code. That means Apple doesn't store shoppers' card numbers and doesn't share them with third-parties.
Apple encourages merchants to offer Apple Pay among the payment methods. To embrace this payment method, contact your payment service provider. Besides, there is a free to download Apple Pay mark on the official Apple website.
Number of users: 87 million
Compatibility: iOS
Web & In-app payments: yes
Supported cards: major local and global credit cards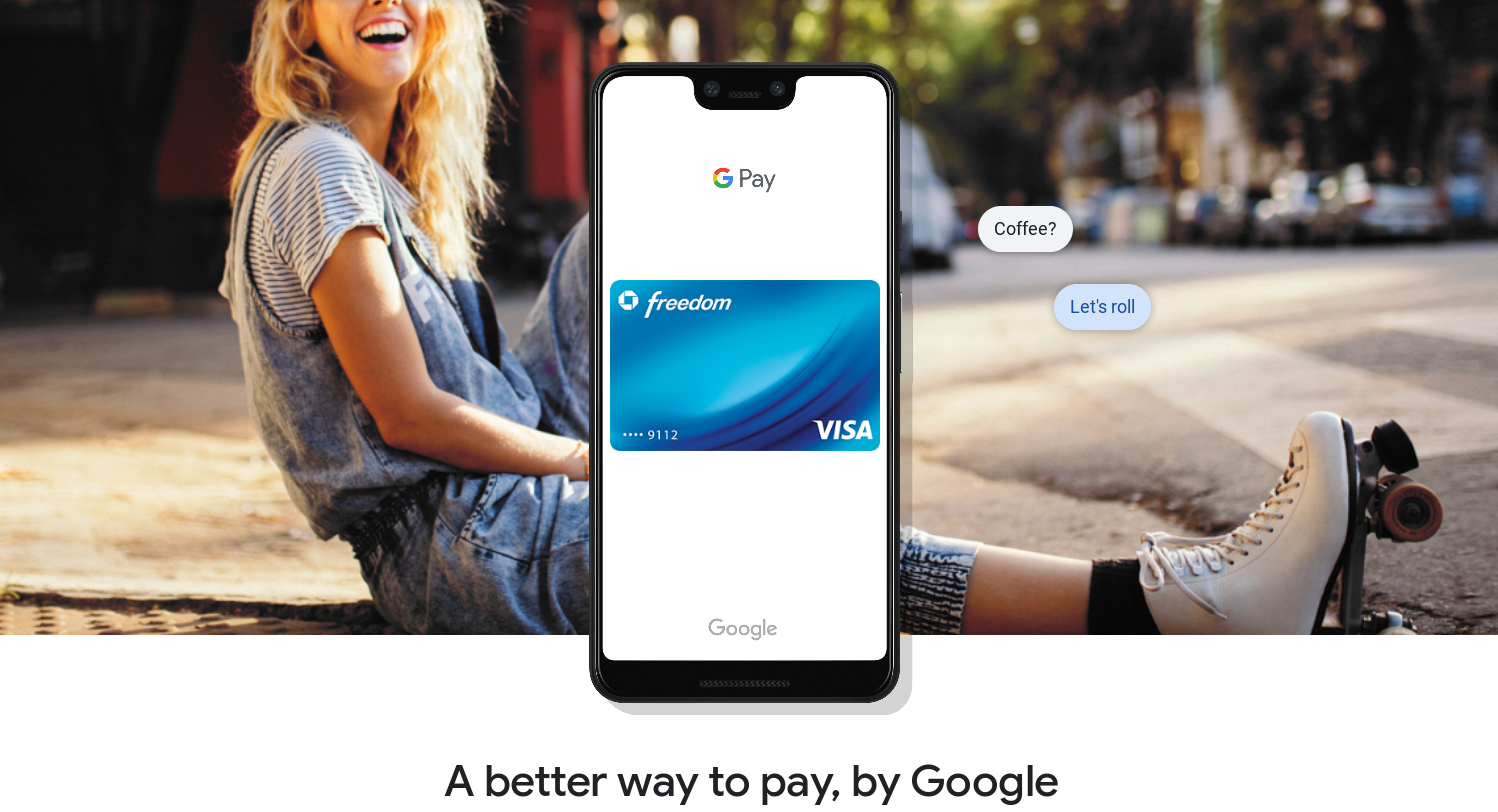 2. Google Pay
Google presented its online payment system and wallet Google Pay in 2015. This mobile payment application enables in-app, tablet, and watch payments. Payments in the offline-stores are available as well. Unlike Apple, Google Pay is compatible with various devices' brands. They might include Google Pixel, Meizu, Huawei, etc.
Google Pay is accessible in major European countries and also Russia, USA, Australia, Singapore, United Arab Emirates. When it comes to sustaining cards, users can add Visa and MasterCard cards, AmEx, and Discover. The choice of locally-supported networks is possible, as well. It includes JCB, Maestro, EFTPOS, Interac, and so on. Google Pay partners with many UK-based banks.
To add the card to the Google wallet, users need to take a picture of the card or add its number. To pay with Google Pay mobile app, customers need to download it from the Play Market. Google Pay allows payments with both credit and debit cards.
To buy anything from the web or app, users need to press "Buy with GPay" and authorize it with a passcode or Touch ID.
Google Pay claims to secure users' payments with multiple security layers. GPay doesn't store or share payment card data with third-parties. Instead, Google Pay generates a virtual account number to identify the client. The user confirms the purchase with the one-time unique OTP code.
Google empowers the merchants, selling via web or mobile, by providing "Buy Button" designed by Google Pay. To learn more about this mobile payment method acceptance, ask your payment service provider.
Number of users: 24 million
Compatibility: Android
Web & In-app payments: yes
Supported cards: major local and global credit cards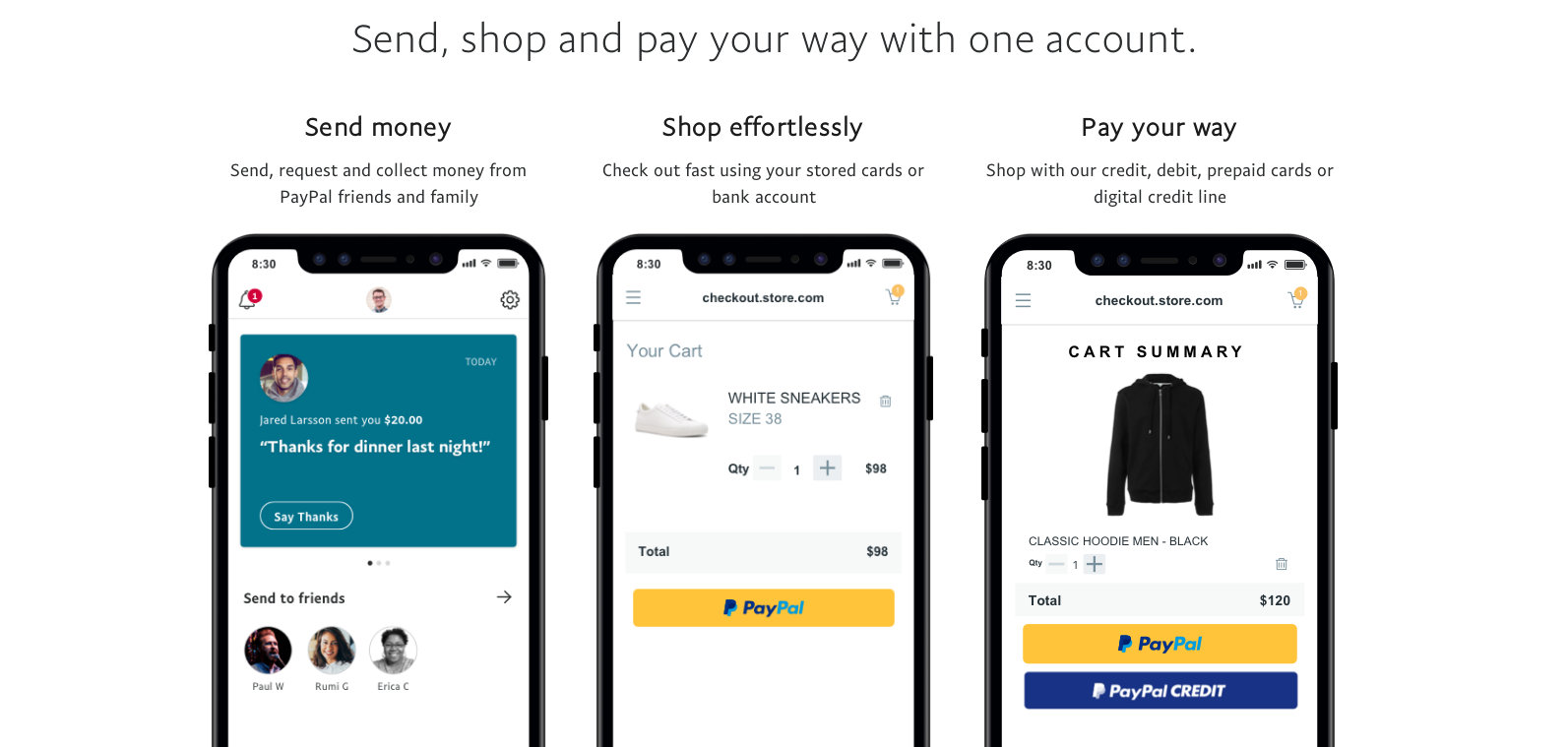 3. PayPal
Though PayPal started its history in 1998, the opportunity to use the PayPal payment app appeared in the 2010 year only. The updated version became available for Android and iOS users in 2013. PayPal payments are available across various platforms; web and mobile are among them. Also, customers can pay at local offline shops and restaurants (should they support PayPal). Any smartphone model is a fitting device to download this mobile payment app.
The initial availability depends more on the country. So, PayPal operates in 200+ lands. If the customer lives within the serviceable country, it's possible to use the PayPal app. Still, the stores should be within those countries as well. For example, PayPal is available in the United States, most European countries, China, South Korea, etc.
To start using the PayPal app, customers need to download it from the App Store or Google Play. Users must have a valid PayPal account to benefit from the payment application. Once an app is up and running, customers can pay in the e-stores and track the balance in real-time.
PayPal safeguards payments with the security token. To access an account, users enter login and password. The next step is a six-digit code provided by the credit card network. This type of two-factor authentication provides more security for users from malicious attacks. But more often, customers will authenticate with the bank card(s) connected to the PayPal account. That security mean makes online and in-app purchases faster.
Check if your payment processor has PayPal among the payment methods to offer it to your clients.
Number of users: 210 million
Compatibility: Android & iOS
Web & In-app payments: yes
Supported cards: major local and global credit cards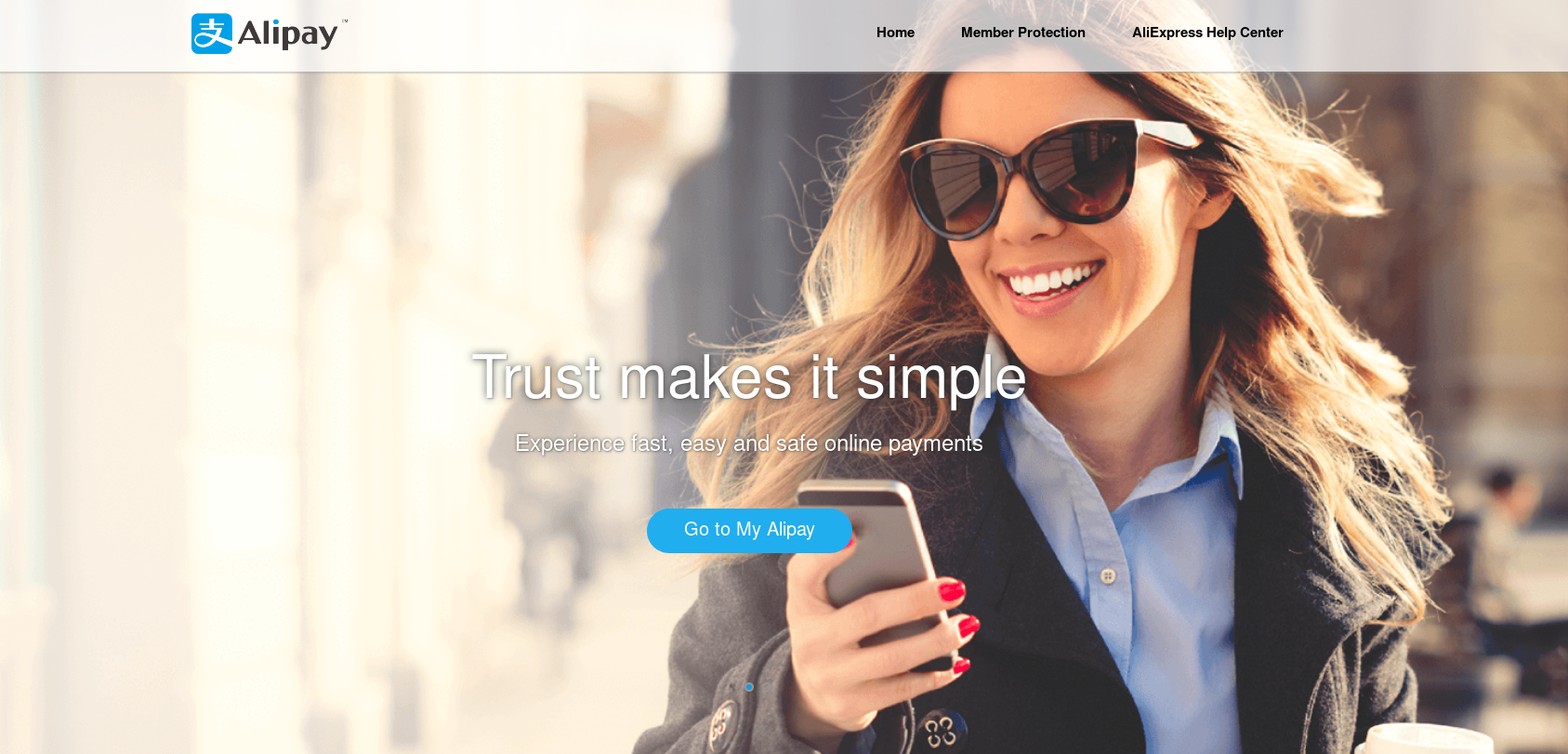 4. Alipay
Alipay is a part of Chinese eCommerce giant Alibaba. This mobile and online payment system started working in 2004. Customers from Mainland China actively use Alipay for online, in-app, and physical stores shopping. Alipay is available across various devices and works with iOS and Android.
Even though Alipay is a predominantly China-oriented mobile payment app, we cannot ignore the impressive population of this country. In recent years Alipay palpably enlarged its influence. It is available in the United Kingdom, Norway, Italy, the United States, Australia, and other countries. Alipay supports Visa and MasterCard as well as 65 more financial institutions. Customers can pay with Alipay in over 460,000 Chinese stores.
Alipay is one of the primary payment methods on the AliExpress website. Nevertheless, the technology stays the same. As with the previous payment methods, users need to choose Alipay as a payment option. Then the user chooses the attached bank card.
To start paying with Alipay, customers need to download it from the Apple Store or Google Play. As this application operates under the Alibaba Group, users' accounts are linked with AliExpress* account.
Alipay claims users' account protection as its main priority. To ensure this, the mobile payment app uses an advanced encryption system and a high integrity risk management framework. Moreover, clients receive 90-day payment protection from unauthorized use. Alipay does not pass personal information to third parties.
Alipay, for sure, is an Asian thing. Nevertheless, if you consider entering this region, notify your payment processor that you want to embrace this payment method.
*AliExpress is a part of Alibaba as well.
Number of users: 870 million
Compatibility: Android & iOS
Web & In-app payments: yes
Supported cards: major Chinese and select global credit cards
5. WeChat Pay
WeChat originated in 2011. It is a mobile payment app created by a Chinese multinational holding Tencent. Though customers describe WeChat as a "super app," only clients who connect their bank card, can use it as an m-wallet. Shoppers can pay using WeChat Pay in-app, for in-app web-based purchase, and at the brick-and-mortar store. The mobile payment app is available for users who have downloaded WeChat on Android- or iOS-based smartphones.
WeChat Pay, as well as Alipay, is China-native and is its main competitor. Besides this, WeChat presented WeChat Pay HK* in 2017. Expect of these two countries, this application is available for customers from the United Kingdom, South Africa, Italy, etc. WeChat Pay supports Visa and MasterCard. Also, users can link cards from JCB and major Chinese banks.
For both in-app and web-based purchase, customers need to select WeChat Pay as a payment option. Then the user needs to confirm the purchase. Next comes the payment confirmation. After the "success" messages, WeChat Pay redirects the customer back to the website or application.
WeChat Pay is available for any WeChat user within China. For foreign customers who want to have an app, the rules differ. They need to provide a photo and a valid ID. Customers confirm every purchase manually in-app.
Once again, if you are planning to penetrate China or Hong Kong, add this payment method. Let customers use WeChat mobile app.
*HK – Hong Kong
Number of users: 800 million
Compatibility: Android & iOS
Web & In-app payments: yes
Supported cards: major Chinese and select global credit card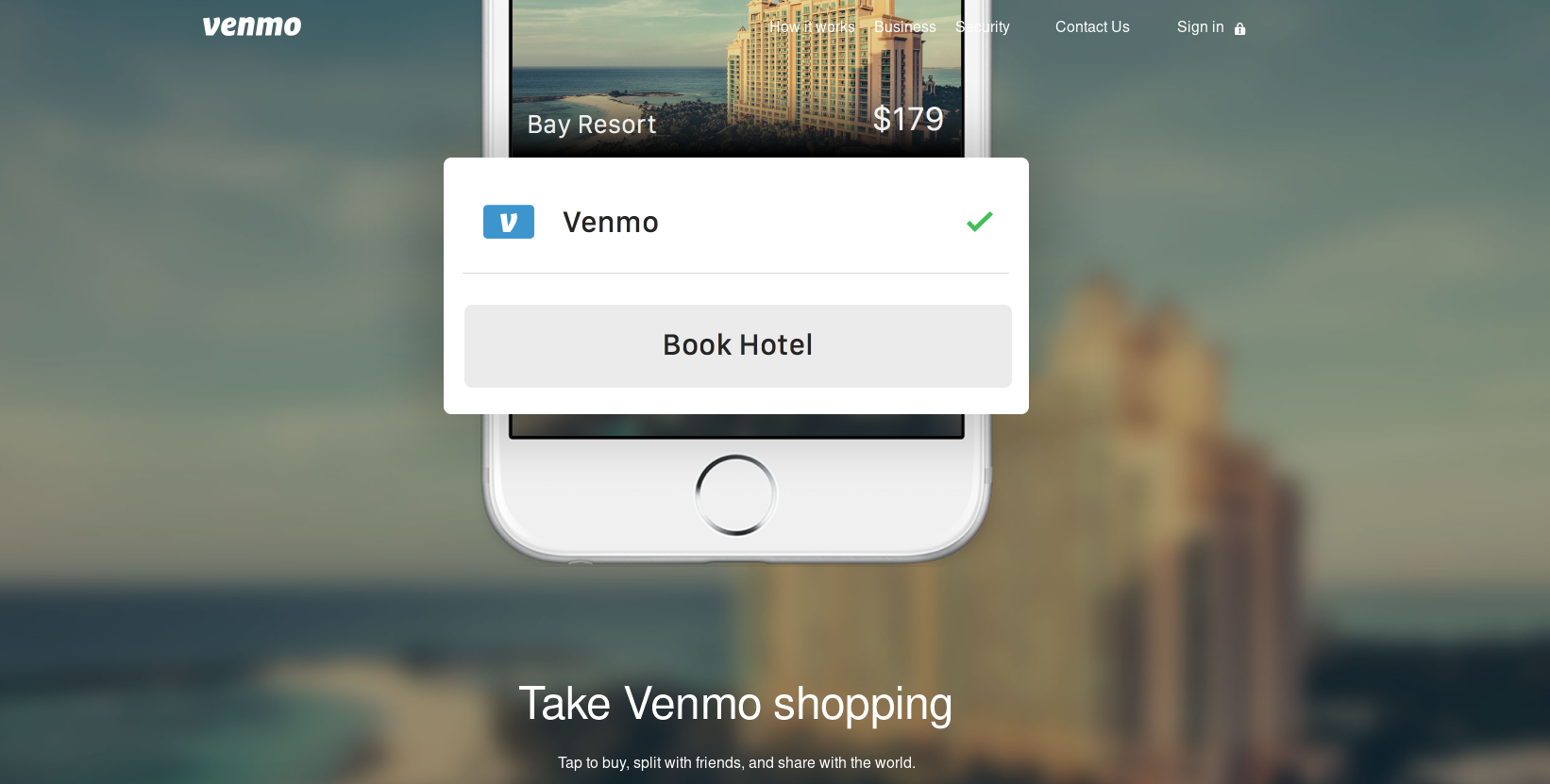 6. Venmo
The initial Venmo release date is 2009. Right now, it is a PayPal subsidiary. Basically, it's a mobile payment app. Unlike other applications we mentioned, the main Venmo payment app's aim is sending money between users. Customers can use it to split payments. Venmo can work across different devices.
Though users pay with Venmo at select merchants, we will concentrate now on the customer to customer transactions. An SMS platform then and social payment platform now, Venmo is available for U.S. citizens only. Users find transactions' recipients via phone, email, or Venmo username. The mobile payment app links to bank accounts, debit, and credit cards. Clients can make payments using Venmo funds, or those that customer has on the bank account or debit card.
As Venmo is a PayPal subsidiary, customers can pay in-app or during web purchases. The payment authorizes via PayPal. Users can pay for various categories of items, including food, tickets, clothing, etc. Also, Venmo provides real-time analytics for all the transactions the customer makes.
Venmo uses encryption to protect personal and transaction data. Customers who suspect unauthorized use or have lost a smartphone need to access the Venmo website. Then in the tab "Settings-Security," they need to clear the session associated with the phone. This action logs out from the personal account. Additionally, customers can adjust the extra security layer with the help of the PIN.
For merchants, who target the United States, adding Venmo as a payment method is a worthy solution.
Number of users: 400 million
Compatibility: Android & iOS
Web & In-app payments: yes
Supported cards: debit and credit cards, own debit cards (by MasterCard network)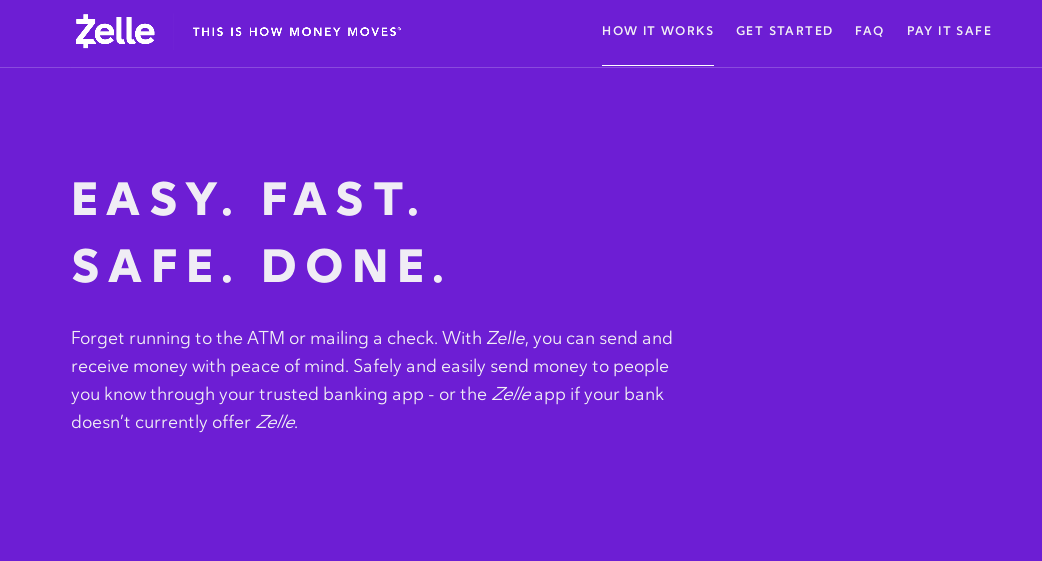 7. Zelle
Zelle originated in 2017 from clearXchange. This company was a proprietary of Bank of America, Wells Fargo, and JPMorgan Chase. After certain improvements and additional features, and participation of PNC Bank, Citibank, US Bank, and Chase One, Zelle appeared. This mobile payment app is available for iOS and Android users. 
All the funds come from the American banks. No wonder the Zelle payment app works within the United States only. To use the Zelle app, users need to fill in the debit or credit card of the participating financial institution. The issuing network should be either Visa or MasterCard.
Like Venmo, Zelle is a perfect app to send money to family or friends, or split payments. There are a few options on how clients can use this application. To send or receive money, customers need to have a valid Zelle account. Clients can use it as a Zelle original app. Another option is accessing Zelle via a banking app of one of the participating financial institutions. Same to Venmo, Zelle users choose the email, name, or mobile phone to transfer funds. The amount goes directly to the user's bank account.
Zelle doesn't require sensitive financial information. Email or the U.S. phone number is enough to send money. Consequently, customers should double-check the recipient's data as they fill it in. Zelle also reminds that it doesn't offer protection equal to credit card networks.
Number of users: 8.4 million (based on Bank of America)
Compatibility: Android & iOS
Web & In-app payments: peer-to-peer
Supported cards: works based on Zelle app or participating bank app, transfers directly to the bank account

Conclusions
Of course, there are a lot more apps to name. We aimed to introduce you to the best mobile payment system. Or a couple of them. Mobile payment app advantages premise their boosting popularity.
Firstly, there are mobile payment apps for Android and iOS-based phones, which covers the majority of mobile software systems the population uses. Besides this, major applications show the opportunity of in-app and web payments.
Moreover, there is a perfect fit for customers from various countries and regions. So, China (Asia) benefits from using Alipay and WeChat Pay. The United States uses Venmo and Zelle for purchases and peer-to-peer payments. International consumers enjoy paying via Apple Pay or Google Pay.
What's the merchants' benefit? Well, if you know and track your customer needs, you can beat the competition. Based on our top mobile payment apps review, you can offer the correct payment methods to users. So far, the choice of traditional and alternative payments is the optimal one. And mobile payments are the alternative method you can embrace.
Ikajo International, as a payment service provider, offers plenty of alternative payment methods. Claim a free consultation to learn what fits your business the most.