The A-Z of Payment Gateway. What is Online Payment Gateway?
If you have an ecommerce store, you must have a payment gateway. There is just no other way around it. If you are not used to payments, you will find this a little complicated. But in reality, payment gateways are not that complex. In fact, many people just exaggerate the complexity of the situation. In this comprehensive guide, we tell you all there is to know about payment gateways which include online payment gateways, payment gateway integration, and payment gateway systems among other things. Also, we tell you how to get started immediately with your online payment gateways.
What Is a Payment Gateway?
Simply put, a payment gateway refers to a service that sends all credit card transactions to the processors of your credit cards. Also, a payment gateway system sends a message to you from our credit card processor to inform you that it has authorized a transaction. There even are certain payment gateways that add tax screen automatically for fraud.
A payment gateway could be seen as a simple software application. It's essentially a conduit or channel between the bank authorizing (or declining) a customer's credit card payment and an ecommerce store. Credit cards, debit cards and eCheck, as well as cryptocurrencies for instance bitcoin, can all be processed via online payment gateways.
A payment gateway is the last step of a sales process on an ecommerce store. In the absence of a payment gateway process, you won't be in a position to securely charge your customers whenever they buy items from your online store.
HOW IMPORTANT IS A PAYMENT GATEWAY?
Credit card payment gateway services are required for every online credit card processing. It works in the same way a POS device (Point of Sale) when paying for your items at a supermarket.
Payment gateways work in the same way when you buy items from a physical store. Therefore, the main reason to have a payment gateway is for authorizing transactions between your customers and you. Note that, in the event that the transaction is not approved by a payment gateway, the transaction process cannot proceed and you can forget about receiving your money.
Do I Need a Payment Gateway?
If you have a strictly ecommerce website, which implies you process payments online, then you must have a payment gateway. There is just no other way that your credit cards can be accepted over the internet when you don't have a payment gateway.
Do note that because transactions are processed via a payment gateway, they are done as ard-not-present transactions. In other words, all that the merchant has is the credit card information entered by the customer. The merchant cannot actually see the credit card of the customer.
When a card-not-present transaction takes place, there is simply no way that the customer's data can be run on the card's EMV chip or the magstripe. This means that there is a chance for fraud. This explains why you may be charged a little higher than when the card is present at transactions. If you are just starting on online business, you will be pleased to know that there are payment gateways for small businesses.
How Do Payment Gateways Work?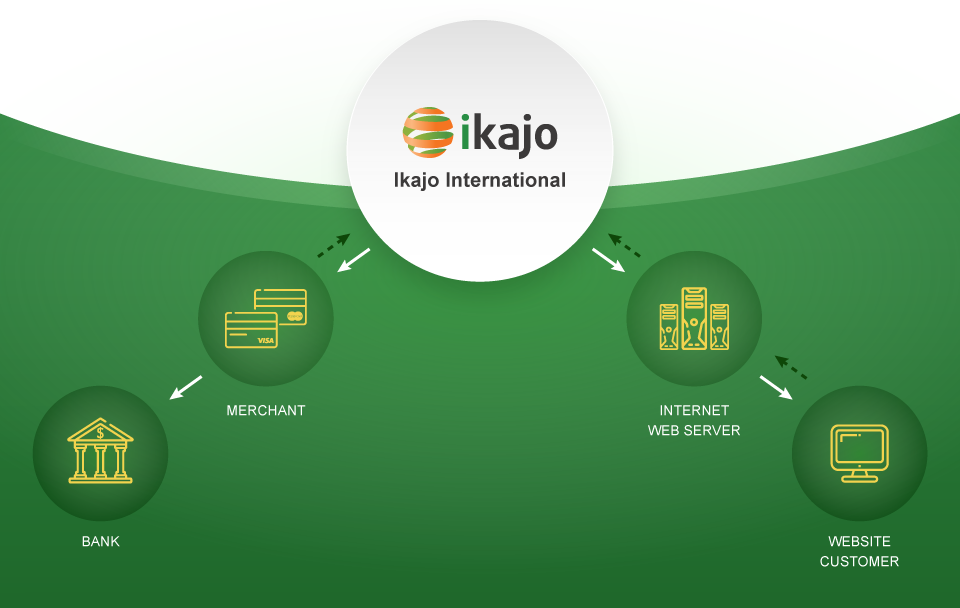 For customers, a credit card payment gateway is simple and quite straightforward. You just go to the website that you want to purchase an item, choose the items you want and add them to your cart and finally check out. After that, you enter payment information and then confirm your order. You just sit back and relax as you await your order to be shipped right at your door. But what happens behind the scenes is a little complex.
There are six processes involved in the gateway process:
The customer puts an order and then enters payment information. An online transaction is then processed in the form of a card-not-present transaction. As stated earlier, this may lead to a higher processing rate. After entering this information, it is encrypted and then transmitted.
The data encrypted is sent to the merchant processor first. The merchant refers to the company that is processing the transaction.
The merchant routes this transaction data to credit card association. Some credit card associations include Discover, Visa, MasterCard and American Express. You will be charged an interchange fee for every transaction by these credit card associations.
The next stage is where the transaction is either approved or denied. Obviously, the card needs to have enough funds and also be valid for it to be approved. Also, during this step, the authorizer also needs not to have any freezes or holds to make the transaction to be authorized. The best part is that all the above four steps only need seconds to be completed.
The transaction is authorized. The issuing bank remits authorization back to parties within the payment processing network. The authorization begins with credit card association, and then with the business of the merchant. Lastly, it goes back to the ecommerce website through a payment gateway. Step 6:
While the transaction only takes a few seconds, expect to see the funds in your account in 24-48 hours.
Setting Up a Payment Gateway
Before you can have your own payment gateway account, you will first have to set up your business legally. Make sure you obtain a tax ID number, often called an EIN. You will also need to open a bank account for your business, buy a domain name and make sure you have a functioning website. After that, choose a third-party processor, for instance PayPal or Due, which enables you to accept payments online. If you already have a business account, confirm with your bank if it's a merchant facility. This way, the payment gateway will seamlessly connect to your bank.Your funds will then be deposited into your account from orders processed via your website.
Also, it's important to talk to your payment gateway provider to ask them to help you correctly set up your account. This way, your bank account will be linked with your software. Also, your payment gateway provider will tell you how to use their software. When you have completed these steps, the next step is for you to integrate your payment gateway into the ecommerce website. The process requires a little technical knowledge. Contract an experienced developer to ensure that your payment gateway is not only running properly but that it's also secure.
How do you pick the right payment gateway for your ecommerce website?
When you want to choose between credit card gateways, there are basically two options which are hosted and integrated gateway payment solutions. Hosted payment gateways for instance PayPal, redirect your clients to the processor of the payment platform to complete the transaction. The advantage with this gateway is that it is responsible for all data security and PCI compliance.
However, the main demerit of hosted gateways is that it might harm your conversion rate because customers are being redirected to another site. Most customers don't trust this gateway. But it still remains your best option when you are starting out. On the other hand, integrated gateways let you connect your ecommerce site through the provided API of the gateway. In this system, your customers won't be redirected to other sites so your conversion is quite safe. But be notified that you will be the one responsible for your customer's data's security. Majority of integrated gateways also allow you to personalize its features, which means you need to know a thing or two about basic programming. You could even consider hiring a programmer.
Is the payment gateway you've chosen supported on your ecommerce platform?
For instance, if you use Shopify, you will want a gateway that easily integrates with that precise platform. Do you need a payment gateway and merchant account? Or an all-in-one payment service provider? Stripe and PayPal offer one combined gateway complete with a merchant account. You could want to combine gateways as it's easier for you when you are just starting. What are the fees? The fees can add up a lot, which is why you should consider them. There are different fees like setup fees, registration fees and even monthly charges. Also, find out what your payment gateway charges for transaction, refund, chargeback and payment processing. These often take a lot of customers by surprise. Some other fees that you will be sure to hate include limit fees. These can be transaction value limit or even monthly transaction limits. There is also batch processing fee, termination fees and fund transfer fees.
Do they have support?
It's not a must that you will always need 24/7 support. In fact, you could easily set up and manage your payment gateway. Still, it pays to be sure that there is always someone to talk to in case you need it. Does your business fall in the high-risk category? Businesses like drug paraphernalia, e-cigarettes, guns, alcohol and pornography are deemed high-risk. Even debt collection, travel and diet programs are deemed high-risk products. Therefore, most payment gateways won't support processing transactions that are related to the above products. But the good news is that there are special high-risk payment gateways.
Will the payment gateway grow with your business? Does your payment gateway have the ability and features to process larger transactions? Does it allow you to add features as your business grows? If you anticipate that your business will grow, you need a payment gateway solution that is scalable and allows for growth. You may need to choose a company that offers a one-flat-fee kind of account.
What is the difference between Payment Processors, Payment Gateways and Merchant Accounts?
If you are just starting out with online payments, you may have heard people talk about payment gateways, payment processors and even merchant accounts. All this can be confusing, so let's break it down. A payment gateway is especially the mediator between payment processor and ecommerce sites. A payment gateway authorizes payments for your ecommerce websites. Payment Processor A payment processor refers to a third-party company appointed by a merchant to handle its transactions. The processor executes the transaction through transmitting the data between you. There are two banks involved, your bank and the bank issuing the customer's credit card. Also, a payment processor provides credit card machines which accept credit card payments in-person. A payment processor is an economical and fast way of accepting payments rather than creating your own merchant account. You will be able to start processing payments immediately after you've signed up with a third-party payment processor.
Occasionally, these are not the most secure and you will be responsible for per-transaction-percentage-fee. Check the fees because they can be higher than dedicated merchant account. While there is no big difference between payment processors and payment gateways, majority of online services provide both features.
Merchant Accounts
Merchant accounts refer to special accounts that enable you to accept multiple payment forms. These payments range from debit cards, credit cards and ACH payments. A merchant account may also be used to deposit funds and also deduct processing fees. Essentially, a merchant account refers to a contract between a credit card processing company and a retailer. They enable you make fast, secure and flexible payments. If you are in ecommerce business, you will need a payment gateway and a merchant account for you to accept credit cards online. Payment gateways are a must if you have an ecommerce website. Without them, you will not be able to receive payment from your customers. Therefore, if you want to run an online business where you receive money, you have no option but to get a payment gateway.
When choosing the right payment gateway for your business, you need to consider several factors like the fees charged, whether it's scalable and the kind of support that they have. The fees are especially important because they can add up a lot. There are different types of payment gateways at your disposal like gateway for credit card processing, MasterCard payment gateway, web payment gateways, visa payment gateways and offshore payment gateways among others. But integrating payment gateways can present a challenge since it requires programming, which is why you want to hire a programmer to integrate payment gateway in website