Obtaining a merchant account might be both expensive and challenging. This is especially true for service providers, small business owners, and independent contractors. Yet with the challenges and the expense that come with obtaining a merchant card, more and more people are using credit cards to make purchases every day. This makes people want to know of other alternatives on how to accept payments without a merchant account. The question is whether it is possible to accept payments without a merchant account?   

The answer is yes, it is possible to get credit card payments without necessarily having a merchant account. Owning a merchant account is no longer the only option on the table, all thanks to third-party payment gateways. In this article we lay out what is the merchant account requirements and provide a list of 8 alternative ways to accept credit card payments. 
What a merchant account is and how it works
Let's clarify what merchant account is first. A merchant account is a type of bank account. It allows merchants to accept credit card payments online. How does a merchant account work? The entire process includes six stages:
Customer purchases products/services on your website.

Your credit card processor sends the transaction to the credit card network (Visa or MasterCard).

The credit card network then routes it to the customer's issuing bank for approval.

Once approved, the transaction funds are deposited into your merchant account.

Then the credit card processor transfers the funds from your merchant account to your business bank account.

Then, and only then, you can use your money. 
The first four stages take no longer than a few seconds. The fifth stage, though, usually takes from two up to 14 days. Yes, you've heard it right. It might take you two weeks to use the hard-earned money. That's one of the reasons why some people prefer to use alternative ways to accept credit card payments (more on them below).
What are the requirements to get a merchant account
To open a merchant account in 2020, you need to provide the following documents: 
Certificate of Incorporation;

Certificate of incumbency;

Local documents as per company jurisdiction which displays company directors and owners; 

Utility bill/Bank statement/Rental agreement under corporate names proving company location;

Valid ID copies for all company directors and owners.
There are also specific website requirements you have to stick to. Otherwise, your website won't compile with all the Visa, and MasterCard demands. In such a case, your application won't be approved. Another website requirement is to create Terms & Condition and a Privacy Policy page. 
How to accept credit card payments without a merchant account
The merchant applying process is not as complicated as it seems. However, it may take a long time to go through the paper difficulties. Service providers' verification steps could be extensive as well. They vary from the quality of your documents, site performance(if one), type of business, and others. Don't want to open a merchant account?
Using an intermediary is the solution for you. 
A payment aggregator acts as an intermediary. It is a service that collects all online funds received on account of a website, an online store, and then transfers them to the accounts of the customer company. It is what allows you to work not only with cash on delivery but also quickly establish electronic payment acceptance.
When choosing a payment aggregator, consider the following factors:
Payment security should be a priority for any merchant.
Therefore, when choosing a payment system, you must be sure that it can provide the necessary level of protection. Security methods may vary:
Instant authorization of the customer.

Encryption of financial information on the Internet;

Special certificates.
The company must have a transparent payment policy.

Also, be aware of hidden fees. 

The flexibility of recurring payments.

Does the company provide financial statements?

The convenience of contacting customer support.
The possibility of quick contact by phone, live chat, email or other preferable for customer methods. Support must promptly resolve problems.
The limitations on the maximum amount of card payment.

The convenience of the interface both for clients and merchants.

6 proven ways to accept credit card payments without a merchant account 
The majority of these payment aggregators offer online services and each one of them comes with its own pros and cons. All in all, these platforms make payment transactions much easier than they ever were before and they save small business people the agony of opening merchant accounts.   
PayPal


PayPal is by far one of the most common and largest payment processors in the world. It rose to its prominence after collaborating with eBay and many other online merchants. All you need when using PayPal is the details of your debit or credit card and your bank account. From there you get your own secure information about your PayPal account that you do not have to share with anyone.

Signing up with PayPal is free and it does not require any annual membership fees. You also do not pay any processing fees or service charges. If you are a small business owner, you never have to worry about the challenges of opening a merchant account.

The benefits of using PayPal are:
1. Credit card security. Since you don't disclose your personal banking information, your account cannot be hacked.

2. Flexibility. You will never have to face the agony of having your credit card declined. With PayPal, you can have several bank accounts as well as credit and debit cards linked to them. If the first attempt fails, PayPal will request funds from your other accounts depending on your order.  

3. It's free. PayPal is free of charge, and there are no annual membership fees.

4. Instant international transactions. You can send or receive money in almost any country in the world. The transfers are instant, and you can check your balance with one click. This makes it significantly better than other costly payment methods like Western Union.  

Square


Square is the number one choice for small business owners. It does not require much paperwork and the fees charged are minimal. The Square, which is a card-swiping device, turns your smartphone or tablet into a cash register. The card connects with the device of your choice to carry out all kinds of payments. The companies' services are especially popular in street food stands, restaurants, coffee shops, and many other small businesses. Through their Cash App, you receive payments as well as electronic invoices. Probably the main advantage of using the platform for entrepreneurs will be synchronization with the POS system of outlets. You can accept both chip cards and NFC payments for contactless or traditional operations with chips and pin codes. Moreover, you can access your income the very next business day after the payment.

Skrill


Skrill is the best alternative to PayPal. Some of the features that make Skrill stand out are its instant deposits and withdrawals. The transaction fees are minimal making it perfect for small business owners. With Skrill, you can also send text messages from your account. The system process payments in 40 currencies. Skrill also has an incredible referral program that allows you to collect 10% of all the friends' transactions. To use this payment system, you do not need to install anything on your computer – no programs, plug-ins, etc. A typical browser and Internet access are enough.
The entire interface is on the official website of the company. Moreover, for personal non-commercial accounts, there is no commission for using the system. The only limitation of Skrill is age. It is impossible to register in the system if your age is less than 18 years.
The security service scrupulously checks all user data. Therefore, if you enter incorrect data, your account will be blocked.

Google Wallet


If you do not have a merchant account, you can also use Google Wallet to receive your payments. Google Wallet is another popular online payment service that is simple to use, safe and very fast. You can use your smartphone to carry out your transactions using Google Wallet. The service also allows you to connect debit, credit, gift and loyalty cards to your account.
Google tech experts claim that when you pay at a store, Google Wallet does not provide your real card details to anyone. Instead, the store receives a unique encrypted number. This approach allows you to keep information about customer payment data secure. Besides, the service has a smart authentication function, which enables you to determine whether the device is in a safe state and decides whether to request data from the user to unlock the screen.
To pay for goods using this service, your smartphone must have an Android platform version 4.4 and higher. Also, NFC wireless technology is a must.

Stripe


Stripe has been around for a couple of years now, and it is another way of accepting payments without opening a merchant account. It has a flexible and powerful API that makes all transactions easy to make.
The flexibility allows you to tailor the Stripe platform to your needs. It is easily integrated with many other applications, which means that even if you are not tech-savvy, you can comfortably start using it to do your business. It has no set-up, or monthly fees as well as any other hidden costs. Small business owners that find it hard to open a merchant account will definitely love this easy-to-use platform.   

Apple Pay


Another option to take into account if you don't want to open a merchant account but want to process online payments is Apple Pay. All you need to start receiving online payments is a touch ID confirmation. This means that simple payment processing is literally at your fingertips.  Though the platform needs a lot of improvement, it is by far one of the fastest-growing payment systems.
You might also like Top 10 PayPal alternatives
How to accept alternative payment methods without a merchant account
Visa and MasterCard payments are traditional. However, you should not underestimate the alternative payment methods. Alternative payment methods are cardless and cashless ways of paying for products and services online. As stated by Industry data, up to 55% of global transactions will be made via alternative payment methods by the end of 2019. Check out the list of the most popular alternative methods by region.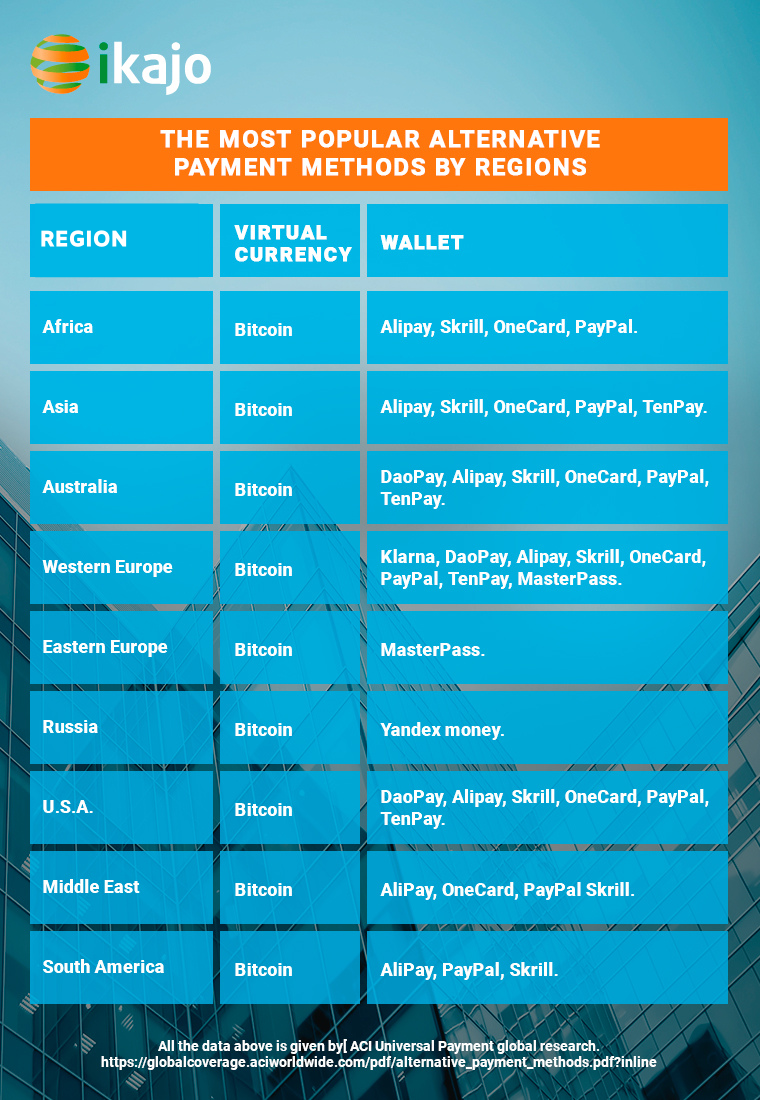 The good news is, you can accept alternative payment methods without a merchant account. 
Wrapping it up  
Sure thing,  merchant account holders have access to a large number of advanced payment methods but the approval time can be a real pain in the neck. Depending on the payment service provider, it might take weeks to get approval to open a merchant account. Besides, it is also expensive, especially for small business owners. Third-party gateways offer the best alternative to merchant accounts. Though they might not come with the same advanced payment tools and services, they are affordable, fast and secure. They also give merchants the option of managing the transactions using their mobile devices. Gateways without mobile reader solutions offer the same services via a website.
When choosing a service for accepting payments, pay attention to the simplicity of the procedure for connecting a payment aggregator, the convenience of the interface of your account, and the time for crediting payments. An important factor is also the security of cash flows passing through the service.
Therefore, if you are starting up a business or are all set to run your own business but cannot afford to open a merchant account, the platforms above will show you several ways how to accept credit card payments without a merchant account.